Following the first production of La Bayadere the Petersburg Gazette wrote of choreographer Marius Petipa, "Watching the new ballet, one is just astonished at the inexhaustible imagination our ballet master possesses. All the dances are marked with freshness and colour, novelty in the groupings, richness of invention, intelligence of story and coordination with the place of action." This evaluation still holds as true today as it did in 1877. The performance relayed to cinemas worldwide on 13th November 2018, was beautifully danced without exception, and for me is the best I have ever seen the Royal Ballet perform.
I have seen La Bayadere once before by the Royal Ballet in January 2009. Carlos Acosta was performing Solor, which of course was fantastic, but so too was Vadim Muntagirov in this production. He's a hugely likeable dancer, whose classical technique is pure and perfected, but in no way affected. His artistry and acting skills are pitched just right, and of course his allegro – such wonderful balon with the softest of landings makes him a joy to watch. Nikiya was danced by Marianela Nunez whose awe-inspiring balance and control gives her amazing fluidity in slow adagio, but her allegro was light and elevated too.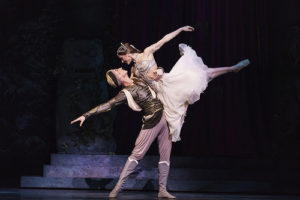 Both her and Natalia Osipova (Gamzatti) dance with overstretched arms which are constantly behind them. I spend so long in my classes teaching students to keep the elbow rounded and the arms in their peripheral vision. I understand that stylistically the extension of the arms is sometimes required, but I wonder how these dancers would look if they followed Cecchetti port de bras rules? In a traditional, classical ballet such as this, perhaps it would add even more beauty? Osipova was great as Gamzatti, her artistry skills really played out well and of course her lightning technique means she whips out pirouettes and jumps with a ferocity and attack that makes you smile.
I thought the Corps performed beautifully throughout. All the scenes they danced were technically assured and well presented. The 'pink' ballerinas in the first act as well as the chief Shades in the second act, along with the dancers with the leaves did an excellent job and really contributed to the overall excellence of the production. And of course Gary Avis as the Chief Brahmin never disappoints and the Bronze Idol danced by Alexander Campbell was foot-perfect too.
All in all a very enjoyable production!