I had been eagerly anticipating this Royal Ballet Coppelia live stream for several reasons; firstly Coppelia is a ballet I hadn't seen as an adult, secondly it's a chance to enjoy Marianela Nunez and Vadim Muntagirov's beautiful dancing and thirdly Enrico Cecchetti gets a name check on the choreography of this one, and as a Cecchetti trained dancer I am always intrigued when he finally gets some public credit for his work. Would I be able to spot his choreography here?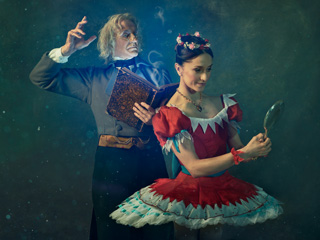 For sure, I could spot Cecchetti's fiendishly quick and intricate footwork, coupled with smooth arm movements and expressive upper body positions. Kevin O'Hare set this up in the pre-match intro when he commented on the "tough technical work" for the ballerina. Although a "cheerful and bright" ballet with a light-hearted story and copious amounts of mime, Coppelia demands, "fast footwork" and "super-precise musicality" which we saw everywhere!
I loved the high level of dance content in the first act, performed brilliantly by everyone on stage. Particular shout outs to Swanildas friends, and to everyone in the heel-clicking Hungarian czardas who danced so joyously and perfectly it made everyone want to live in that little Eastern European village. The score by Delibes is packed full of recognisable tunes, and the half time interview with conductor Barry Wordsworth gave an insight into how enjoyable this action-packed score is for the whole orchestra to play.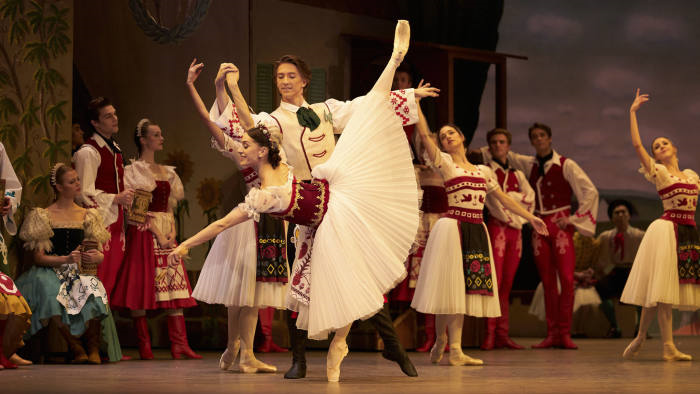 The dancing at this performance really was superb. It's definitely not easy for the ballerina or her friends, but no-one missed a pirouette, jump, landing or pas de bourrée (although Kevin O'Hare seemed to be ribbing Vadim about some landings in 5th behind the curtain when the live stream was wrapping up!) I enjoyed the second act doll dancing and extensive mime sequences. Gary Avis was excellent as always, but after the ballet rush of technically demanding expertly danced sequences in the first act, I was keen for more and was willing the third act to come around!
The third act pas de deux was so well danced by Marianela and Vadim, her turn out and balance is incredible, and as always, I really admire her use of the foot up to pointe. Vadim (or Va-dream as I hear he's now referred to) has a balon to die for and nailed everything with his signature lack of ego and humble, true-hearted on-stage interactions.
Above all I would describe this Royal Ballet performance as JOYOUS – it certainly brought Christmas joy to everyone watching around the world. Marianela seemed relaxed and to fully enjoy all her character work throughout the ballet. The tumultuous applause seemed to quite overwhelm her and I felt we really saw her true personality come through as she took her curtain calls. Well done to everyone!